In the conflict of desires to be well-informed vs. to stay sane, losing your focus is easy. Maintain your inner sanity through the practice of equanimity.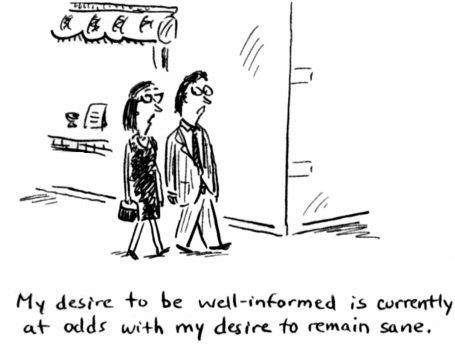 Dear friends,
Is your desire to be well-informed currently at odds with your desire to stay sane?
You may want to consider the practice of equanimity, or cultivating a "caring perspective".
It's the caring perspective of a wise grandmother. She's been through a lot in her long life, so she no longer gets caught up too personally in the latest ups and downs.
To help you access your inner wise grandmother (or grandfather), here are some equanimity phrases to repeat and reflect on:
Whether I understand it or not, things are unfolding according to a lawful nature.
Things are just as they are
May I accept things just as they are
May I be undisturbed by the comings and goings of things.
I will care for you but cannot keep you from suffering.
I wish you happiness but cannot make your choices for you.
No matter how I might wish things to be otherwise, things are as they are.
No matter what I wish for, things are as they are.
Self as I am, things as they are.
I have my path. You have your path. And I care about you.
May I be open and balanced and peaceful.
This is how it is. What now?
May I trust in the nature of the unfolding.
May I remain at ease in the middle of things.
… Which one resonates with you most? Please let me know by responding to this email.
Below are some guided equanimity meditations and talks to cultivate an inner sense of caring perspective even more.
Wishing you peace,
Sean FargoFounder, Mindfulness Exercises
Free Meditations on Equanimity: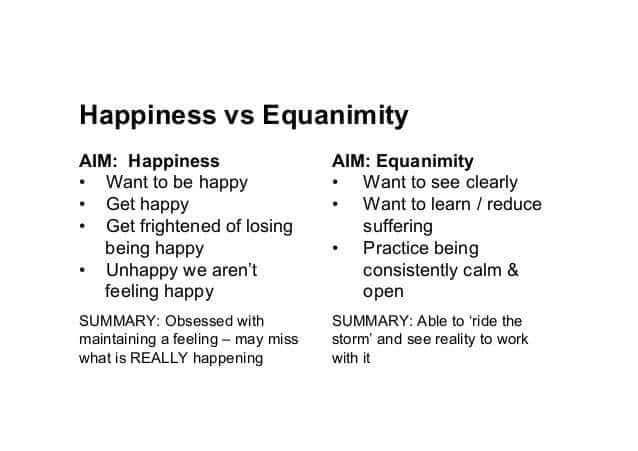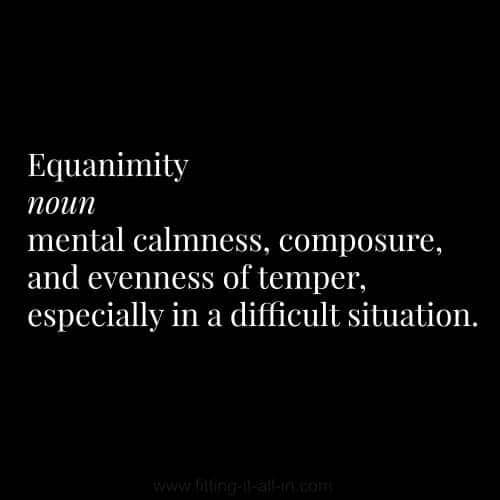 330MindfulnessWorksheets
Step-by-step guidance for developing mindfulness for your health, relationships, career, meditation and more!
50% OFF
Safely download them all to your own computer
Nicely designed PDF's with writable fields to add your reflections, answers and journal entries
Expertly designed for both beginners and advanced mindfulness practitioners
Organized into separate folders, based on health, relationships, career, self-discovery, purpose, formal meditation, and more
Evidence-based practices for increasing a sense of peace, calm, clarity, care and confidence
100% Money-Back Guarantee
200+ GUIDED Meditation Scripts
Discover the world's most popular mindfulness meditation scripts that make a positive impact on people's well-being.
50% OFF
Safely download them all to your own computer
Elegantly formatted for you to read easily and confidently at your own pace
Learn how to do many new mindfulness meditations , while deepening your experiential understanding of the one's you're practiced
Evidence-based meditations for cultivating calm, self-compassion, embodied presence and resilience
Guide these meditations for others to make a positive impact on the qualify of their day-to-day lives
100% Money-Back Guarantee