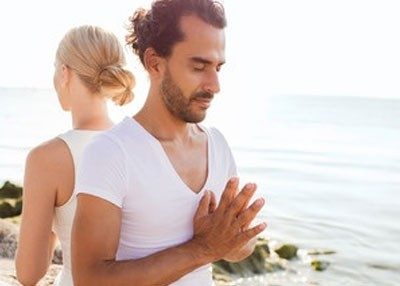 When many people think of the benefits of meditation, they think of the relaxing or calming factor it provides for their lives. They think of how it can help with stress or allow people to calm down when thy are anxious. You may be surprised to find there are many meditation benefits beyond just the relaxation which can achieved through regular meditation.
Helps Those with PTSD
When soldiers come back from war, they are often not quite the same people as when they left home. Unfortunately, post-traumatic stress disorder affects an estimated one-third of those who have served in Iraq or Afghanistan. According to a recent study from the Center for Investigating Healthy Minds of the University of Wisconsin-Madison, though, Sudarshan Kriya Yoga, a breathing-based meditation, can help with PTSD. Although the study is only in the early stages, those who received training in the breathing technique showed reduced symptoms of anxiety and fewer PTSD symptoms. For some people, meditation is an a lot more appealing than antidepressants or psychotherapy, both of which are often used for PTSD and neither of which works for all individuals suffering from the disorder.
Shortened Migraines
Many migraine sufferers know migraines can create a complete disruption to your day. A recently study provided good news for those suffering from migraines. The study, conducted by researchers from Wake Forest Baptist Medical Center, split participants into two groups. One group used standard medical care to treat their migraines. The other group used mindful-based stress reduction which is a mix of meditation and yoga. Those in the second group meditated for thirty minutes per day. The individuals from the meditation group had less severe and fewer migraines. Since it was only a small study group, it is hard to determine if this is significant. Those who used meditation, though, did have significantly shorter migraines. Their migraines were about three hours shorter than those who used standard medical treatment for their migraines.
Those three hours can make a world of difference for someone feeling hea dache pain.
Benefits Your Brain
Not everyone deals with PSTD or migraines, but everyone could use a brain boost. Meditation can help with long-term memory, short-term memory, concentration, goal setting, improved awareness of your body, and a variety of other tasks involved with your brain. It can even lead to a more positive mood. Who doesn't need a little boost to their brain once in a while?
Of course, there are many other ways meditation is beneficial, and there are many types of meditation. If you are interested in learning more about how meditation can help you in your life, contact us.
Find more exercises about mindfulness meditation techniques here.
50Guided AudioMeditations
Effective for reducing stress, anxiety, depression and insomnia.
$
48
Download them to your own computer
Access the audio anytime, anywhere
Increase feelings of ease, confidence and gratitude
Evidence-based
100% Money-Back Guarantee
320 Mindfulness Worksheets
Step-by-step guidance for many mindfulness practices.
$
47
Download them to your own computer
Writable PDF's
For all experience levels
Sorted by: meditation, stress, work, relationships, family, purpose
Evidence-based
100% Money-Back Guarantee
200 meditation scripts
Lead a wide variety of mindfulness meditations for others well-being.
$
45
Download them to your own computer
Simple documents to read and follow
Includes mindfulness of body, breath, love, stress, work, etc.
Evidence-based
100% Money-Back Guarantee