Here Is Your Free Ebook:
Based on the most comprehensive map of human development known, this simplified approach to more growth and greater wholeness can transform all areas of your life.
World-famous author and teacher Ken Wilber has created the revolutionary Integral Life Practice kit that you can use NOW to transform your mental, emotional, physical, and spiritual life. Integral Life is proud to be offering this foundational framework and set of practices that are proven to give you more clarity, energy, and availability so you can bring the fullest you to your world.
We're living in a momentous time, when many people are asking profoundly important questions. Our lives are hectic and full, yet we can't shake this drive for something more. We want to live our lives to the fullest, and be of benefit to others. With so many options for living fully – spirituality, exercise, philosophical inquiry, service, relationships – it's nearly impossible to make sense of all of them without leaving something out and becoming completely overwhelmed. Integral Life Practice provides the most comprehensive approach for gaining more perspective and control of your life.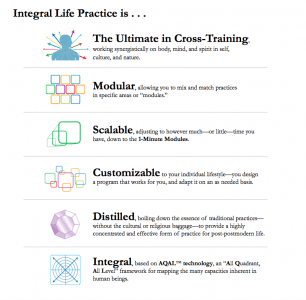 The Integral Life Practice Kit is what it implies: a practical tool kit that turns Integral learning into accessible, applied practices that you can do every day. Some of the modules are just one minute long, and customization options let you tailor your own Integral practice plan.
The ILP Kit, based on the Integral Model, is a result of decades of study resulting in the most comprehensive map of human development that shows you how to incorporate the best practices of all the world's wisdom traditions—East and West, ancient and modern, spiritual and psychological.
–
If you liked this free mindfulness ebook and would like to make a direct financial contribution to this teacher, please contact them here: http://integrallife.teachable.com/p/integral-life-practice-starter-kit
Material on this site is licensed under a Creative Commons Attribution-Noncommercial-No Derivative Works 3.0 License