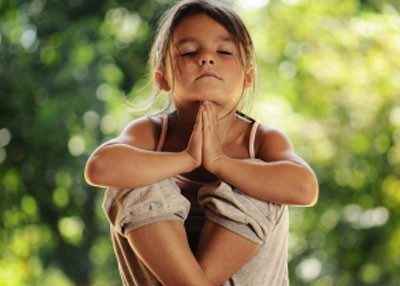 Individuals of all ages benefit greatly from developing mindfulness through introspective exercises. These activities train your mind to fully appreciate the sensations and sentiments around you. Mindfulness is a wonderful quality to evoke in children as well, and can reduce behavioral issues by teaching young ones how to be more considerate. However, given the active nature and shorter attention spans of children, some accommodations must be made. Carefully designed mindfulness exercises for kids take into account their developmental stage while promoting the same essence of mindfulness that experienced adults strive to achieve.
Glitter Jar. A glitter jar is a great way to get easily stimulated children to focus on one thing only. Fill a clear jar with shiny glitter and sit with your child as you shake and spin it. Encourage the child to observe the glitter by following individual pieces as well as taking in the whole picture. Watch as your child is fascinated by a simple device and practice deep breathing as the two of you watch the glitter slowly settle back to the bottom.
Rethink Mealtime. Turn mealtime from a chaotic free for all, to a slower-paced, thoughtful experience. Ask your child to think about everything they are eating, and to chew each bite at least 10 times. Discuss the origin of each food item, and use the 5 senses to understand what is being eaten.
Nature walks. Take your child outside for a walk in a quiet area, and encourage them to be as silent as possible, almost as if you were on a hunt. If the terrain is clear enough, take off your child's shoes and discuss the sensation of grass and dirt on bare feet.
Raisin Exercise. For this task, choose a raisin (or other piece of produce) and hand it your child. Tell them to touch every part of the surface and to imagine the life cycle of a grape. Ask questions about the color, texture, size, smell etc. Getting your child to appreciate the many aspects of an item as a simple as a raisin is an easy step towards mindfulness.
For more information on mindfulness exercises for kids, please contact us today.
Find more exercises related to mindfulness with relationships and family here.