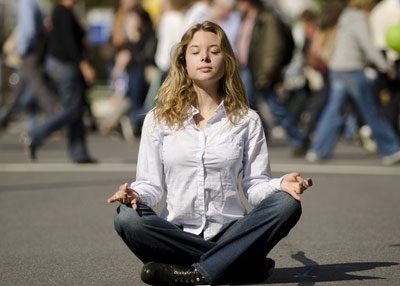 To transform your life, you need to be able to take meditation benefits with you when you rise from your cushion and return to daily life. Mastering a few mindfulness techniques will enable you to bring more peace and awareness with you into any situation.
Some practitioners think of their time as meditation sessions and meditation breaks, which are all of the hours between sessions. For most people, those formal meditation sessions will represent only a small fraction of the day. To sustain your realizations, it will be helpful to think about how you end your sessions and how you use the hours between sessions. These are a few ideas to guide you in this process.
Come out of Meditation Gradually: At the end of your session, bring your attention back to your surroundings slowly and gently. Wiggle your toes and fingers. Stretch your whole body. Notice how your breath may have become slower and deeper. A smooth transition helps your mind to stay quiet and hold onto positive thoughts.
If you immediately jump up and start watching Netflix or writing an email to a client, you may get so distracted that you lose all the benefits of your session.
Create a Daily Resolution: Give yourself a homework assignment. As you review your session, think about an action you can take to reinforce what you learned. You may decide to tell 3 people how much you appreciate them or to stop eating bacon. For the best results, make your resolution specific and time limited. Pick something challenging but feasible for you.
Dedicate your Blessings: Everything becomes more powerful when we share it with others. Take what you gained from your session and dedicate it to a creature or to a good cause. Choose your mother or world peace. This will also clarify the connection between your individual practice and the universe.
Live Virtuously: Of course, there is no quick fix for mindfulness. Practicing moral discipline and purifying your thoughts, speech and actions will make meditation much more productive. Insights will come more easily, and your emotions will become more manageable. Your life will become more happy and meaningful. There are many sources of valuable advice available such as A Guide to the Bodhisattva Way of Life, which is also available at most libraries.
Are you interested in reducing stress and welcoming more wisdom into your life? Contact us for mindfulness exercises that can help you get started.
Find more exercises about mindfulness meditation techniques here.
50Guided AudioMeditations
Effective for reducing stress, anxiety, depression and insomnia.
$
48
Download them to your own computer
Access the audio anytime, anywhere
Increase feelings of ease, confidence and gratitude
Evidence-based
100% Money-Back Guarantee
BUY NOW
320 Mindfulness Worksheets
Step-by-step guidance for many mindfulness practices.
$
47
Download them to your own computer
Writable PDF's
For all experience levels
Sorted by: meditation, stress, work, relationships, family, purpose
Evidence-based
100% Money-Back Guarantee
BUY NOW
200 meditation scripts
Lead a wide variety of mindfulness meditations for others well-being.
$
45
Download them to your own computer
Simple documents to read and follow
Includes mindfulness of body, breath, love, stress, work, etc.
Evidence-based
100% Money-Back Guarantee